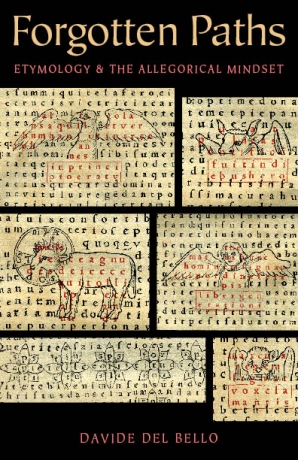 Forgotten Paths
Etymology and the Allegorical Mindset
5.50 x 8.50 x 0.00 in
eBook
9780813216928
Published: January 2010
$64.95
BUY
Much has been written on allegory as a cognitive tool—a rhetorical device that is more a philosophical forma mentis than sheer literary form. The writings of the classical thinkers, the work of Isidore of Seville, and the texts of Renaissance humanists tacitly acknowledge the rhetorical, argumentative impact of etymology. Yet appreciation for the practice of etymology remains largely uncharted in modern works. When recognized, it is invariably with reservations about its scientific or cognitive worth. Isidore of Seville's etymologies, for instance, continue either to be cited as curious specimens of scientific antiquarianism or altogether dismissed as semantically and phonologically inaccurate.
In Forgotten Paths, Davide Del Bello draws on the insights of Giambattista Vico and examines exemplary texts from classical, medieval, and Renaissance culture with the intent to trace the links between etymological and allegorical ways of knowing, writing, thinking, and arguing. Del Bello brings into sharper focus the hazy contours of etymology with respect to allegory; assesses the viability of classical and medieval etymologizing as a dynamic cognitive tool; and appraises the persistence of an etymologico-allegorical modus operandi from the late Enlightenment to postmodernism.
Davide Del Bello is assistant professor of English at Bergamo University in Italy. He received his Ph.D. in English and rhetoric from Northern Illinois University.
PRAISE FOR THE BOOK
"A very interesting and unusual book. It is gratifying to see this classical and humanist sense of etymology as an integral part of thought brought back to life."—Thora Ilin Bayer, RosaMary Professor of Liberal Arts and Associate Professor of Philosophy, Xavier University
"This elegantly written, brilliantly conceived book provides a richly expansive definition of etymology and its relation to allegory.... In eight carefully crafted chapters, Del Bello relentlessly keeps his eye on the object: the integration of etymology and allegory.... It is difficult to exaggerate the value of this book for students of literature, rhetoric, or the history of thought. Del Bello is an original thinker on linguistic matters and a writer of considerable ability. Forgotten Paths is both a 'memorable' book and an enduring, insightful analysis of the problematic relationship that has always existed between language and thought." —
Cithara
"This book is really for aficionados of etymology-based intellectual inquiry, from pre-modern to post-modern.... This book presents its material with admirable eloquence and imagination.... "[T]his monograph does great service to the history of etymology by recasting it as a linguistic variant of allegory progressively transformed by science, and will be prized by many philosophers of language for undertaking a challenging intellectual journey through a diverse range of authors who are rarely read together." — Dunstan Lowe,
Bryn Mawr Reviews
Students of poetry will find this a most fascinating as well as instructive book, while professional literary scholars will recognize its central assumption that etymology includes an expansive field of issues regarding word origins.... Del Bello wants to rescue from oblivion a once lively and still powerfully important aspect of language in its figurative dimensions, and this makes for an invigorating study....I am delighted to have read and learned from it.... [W]henever
Forgotten Paths
touches a question of theory or some particular case in point, it yields revealing insight, and hence the book as a whole makes a genuine contribution to the field of hermeneutics."—-Angus Fletcher,
Modern Philology