The following is an excerpt of The Relic by José Maria Eça de Queirós and translated by Robert M. Fedorchek. Eça de Queirós (1845-1900) was a Portuguese novelist and literary critic who also served as a diplomat in Havana, London, and Paris.
---
My grandfather was Padre Rufino da Conceição, licentiate in Theology, author of a devout Life of Saint Philomena, and prior of Amendoeirinha. My father, godson of Our Lady of the Assumption, was named Rufino da Assunção Raposo, and he lived in Évora1 with my grandmother, Philomena Raposo, nicknamed "Butterball,"2 a confectioner on Rua do Lagar dos Dízimos. Papa had a good job at the post office and wrote for pleasure for the Alentejo Beacon.
In 1853, an illustrious ecclesiastic, Dom Gaspar de Lorena, bishop of Chorazim (which is in Galilee), came to spend the Feast of Saint John in Évora at the house of Canon Pita, where Papa usually went in the evenings to play his guitar. As a courtesy to the two priests, Papa published in the Beacon an article, laboriously gleaned from The Preacher's Patrimony, congratulating Évora "on the good fortune of sheltering inside its walls the celebrated prelate Dom Gaspar, fulgent flame of the Church and renowned tower of sanctity." The bishop of Chorazim cut this piece from the Beacon to slip it between the pages of his breviary. Everything, then, about Papa began to please him, from the cleanliness of his linens to the plaintive charm with which he would sing the "Ballad of Ordonho," accompanying himself on the guitar. But when he learned that this Rufino da Assunção, so dark-complexioned and personable, was the blood-related godson of old Rufino da Conceição, his comrade of their days of studies at Saint Joseph Seminary and in the theological courses of the university, his affection for Papa increased tenfold. Before leaving for Évora, he gave him a silver watch; and through his influence, Papa—after dawdling away a few months in laziness as a candidate for a position at Customs in Porto—was scandalously named Director of Customs at Viana do Castelo.3
When Papa arrived at the pleasant, fertile plains of Entre Minho e Lima, the apple trees were already flowering. And then that July he met a gentleman from Lisbon, Commander G. Godinho, who was spending the summer with two nieces at a country house called the Mosteiro, former ancestral home of the Counts of Lindoso by the river. The older of these ladies, Dona Maria do Patrocínio, wore dark glasses and, accompanied by a servant in livery, would ride a small donkey every morning from the house to the city to hear Mass at Santana. The other one, Dona Rosa, plumpish and dark-complexioned, played the harp and knew by heart verses of Love and Melancholy,4 and she would spend hours by the water's edge in the shade of alders, trailing her white dress on the grass and making little posies of wildflowers.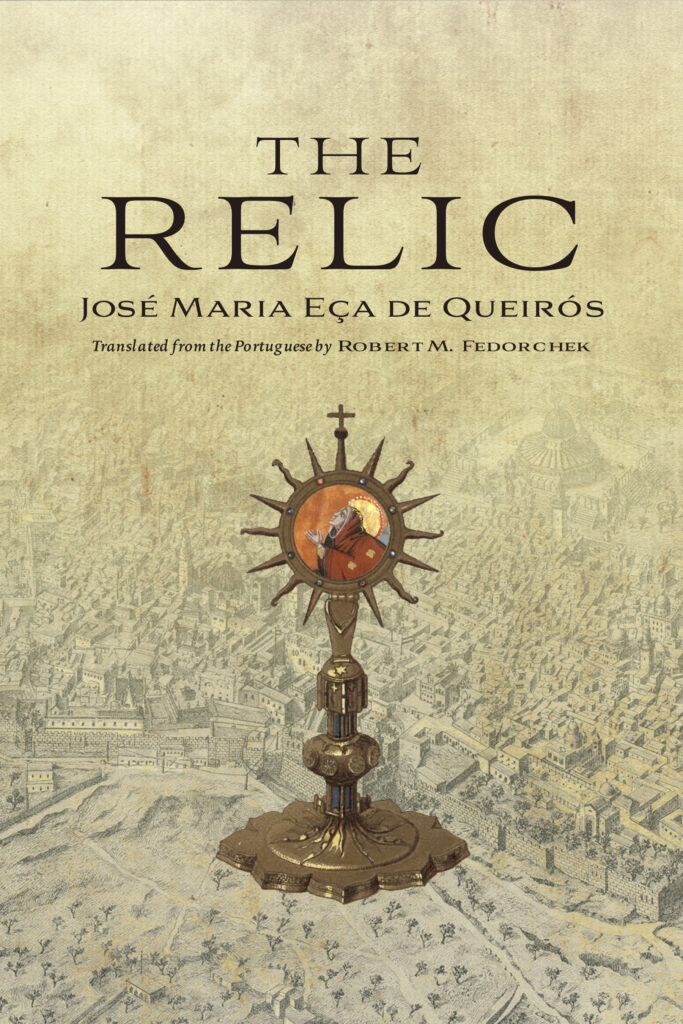 Papa began to frequent the Mosteiro. A Customs guard carried his guitar for him, and while the Commander and another family friend, the delegate Dr. Margaride, were engrossed in a game of backgammon and Dona Maria was upstairs saying her beads, Papa would sit on the balcony beside Dona Rosa and there, beneath the round white moon above the river, pluck the strings of his guitar to sing the sorrows of Count Ordonho. Other times it was he who played a game of backgammon; Dona Rosa would then sit by her auntie, a flower in her hair, a book forgotten in her lap, and Papa, shaking the dice, would feel the promising caress of her long-lashed eyes.
They got married. I was born on a Good Friday afternoon, and Mama died on the joyous morning of the Resurrection amid the hallelujah fireworks. Covered with gillyflowers, she lies in the cemetery of Viana do Castelo, in a humid lane near the wall shadowed by weeping willows, where she liked taking summer afternoon walks with her shaggy little dog named Traviata.
The Commander and Dona Maria never returned to the Mosteiro. While I grew and had the measles, Papa got fat, and his guitar lay asleep inside a green baize sack in a corner of the parlor. One day on a very hot July, after my maid Gervásia had dressed me in my heavy black velveteen suit, Papa tied a mourning band around his straw hat: it was to mourn Commander G. Godinho, whom he often called, albeit muttering, "a good-for-nothing."
Then, one Shrovetide night, Papa suddenly died of a stroke as he was descending the stone stairway of our house masquerading as a bear to attend a dance given by the Macedo ladies. I was seven at the time, and I remember having seen in our court-yard the following day a tall, obese lady in a rich black lace mantilla, sobbing at the sight of Papa's bloodstains, which no one had washed away, and which had already dried on the flag-stones. An old woman, hunched in her thin cotton cloak, waited at the gate, praying.
The capital city of Portugal's south-central Alentejo region.
Repolhuda, in Eça's Portuguese.
Port city in northwest Portugal bordering the Atlantic at the mouth of the Lima River, on the Costa Verde [Green Coast].
A collection of poetry [Amor e Melancolia, 1828] by António Felici-ano de Castilho (1800–75), foremost poet of Portuguese Romanticism.